Saturday Jun 19, 2021
Xan's Xtraordinary Superhero Xamination Ep 008: Loki Ep 1 & 2 Spoiler Review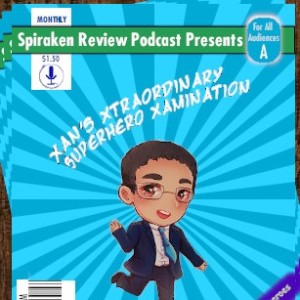 Welcome to another issue of Xan's Xtraordinary Superhero Xamination
The Spiraken podcast where we discuss some of the latest and coolest Superhero Media.
In this episode, Xan & Gretta discuss the first two episode of the latest Marvel Studios Show Loki as well as their initial thoughts
As ours hosts discuss these two episodes, there are tons of spoilers, debates on where this show will go, thoughts on the cast and some interesting hypothesis's on what Loki will do next. If you want to see the video version of this episode, click here
Remember to Like, Share and Subscribe. Follow us @spiraken on Twitter and @spiraken on Instagram, subscribe to this podcast and our youtube channel & if you would kindly, please go to www.tinyurl.com/helpxan and give us a great rating on Apple Podcasts. Also join our discord, Subscribe to our Patreon. Thank you and hope you enjoy this episode.
***Copyright Disclaimer: None of the music, songs or film clips in this video belongs to me. They belong to Marvel Studios, The Walt Disney Company and the owners of the Loki TV Series. This is a non-commercial video for entertainment purposes only. No copyright infringement is intended.***
Music Used in This Episode: Opening Theme- Trendsetter by Mood Maze (uppbeat) Closing Theme- X Ray Vision by Slynx (youtube Audio Library)