Monday Mar 01, 2021
Xan's Xtraordinary Superhero Xamination Ep 004: Superman & Lois and the CWVerse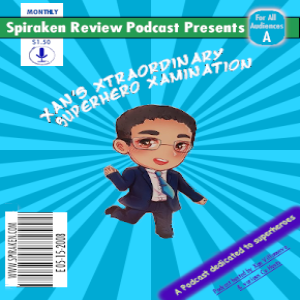 welcome to Xan's Xtraordinary Superhero Xamination, the show where every episode we will talk about everything superhero comic book related and fun.
In this episode, Xan is joined by a very special guest host, one of the OG members of Spiraken, KAL!!!! So enjoy as they discuss the newest addition to the DC CWVERSE, Superman & Lois starring Tyler Hoechlin and Elizabeth Tulloch. 
As our host discuss the pilot episode of this series, they also discuss the various other DC shows that CW currently is running and where it could all be leading. There are also several tangents into the marvel side of things but overall this is a really fun DC Conversation. 
Remember to Like, Share and Subscribe. Follow us @spiraken on Twitter and @spiraken on Instagram, subscribe to this podcast and our youtube channel & if you would kindly, please go to www.tinyurl.com/helpxan and give us a great rating on Apple Podcasts. Also join our discord and  Thank you and hope you enjoy this episode.
#spiraken #comicbookreview #Xansxtraordinarysuperheroxaminationpodcast #seineenmanga #supermanandlois #cwarrowverse #dccomics #comicbooks #marvelcomics #podcasthq #manga #spirakenreviewpodcast 
Music Used in This Episode: Closing Theme- X-Ray Vision by Slynk (Youtube Audio Library)
WHERE TO FIND US
Our Instagram https://www.instagram.com/spiraken/
Our Email Spiraken@gmail.com
Xan's Email xan@spiraken.com
Our Discord https://tinyurl.com/spiradiscord
Our Twitter https://twitter.com/spiraken
Youtube Channel https://www.youtube.com/user/spiraken
Our Amazon Store http://www.amazon.com/shops/spiraken
Random Question of the Day: What do you think about the Stranger as a villain?