Tuesday Jul 08, 2014
Spiraken Movie Article Review: A Brony Story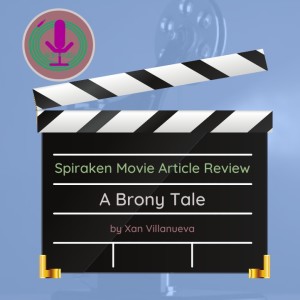 Brony(n): A male fan of the childrens show " My Little Pony: Friendship is Magic"
Being a reviewer of Japanese comic books, cartoons, video games, cult films and other geeky forms of medium, I generally have no right to judge what someone else enjoys, but whenever I heard about Bronys, I would get a chill down my spine. A grown man watching a show for little girls, what defect must they have to be into that fandom? says the fan of manga about boys turning into girls when splashed with cold water and tv shows about a time traveling alien in a blue box. however, when asked to review Hodge's  A Brony Tale I said what the hell and dove right in. Aftre watching this documentary, my opinion has changed about them But first off...
let's start from the top, A Brony Story is an 2013 documentary directed by Brent Hodge focusing on the community of Fans through exploration of the different demographics of fans in this fandom. It defines the term "Brony" as well as defines what it means to be a Brony through the stories of the different individuals involved and the various ways that MLP FIM has touched their lives. The documentary is bookedned by Ashleigh Ball(voice actress of Rainbow Dash and Applejack) 's introduction into the Brony world through an invitation to Bronycon 2012. at 1 hr 18 mins, this documentary shows the positive aspects of Bronydom while providing informative trivia about the subject at hand. Unlike the Laurent Malaquais documentary " Bronies: The Extremely Unexpected Adult Fans of My Little Pony" , this film seems less of a commercial and more of a look at the best of what being a brony has to offer.
Some of the specific example include:
Dustykatts the motorcycle repairing, beer guzzling, self proclaimed "manliest Brony" ever

Bryan- a former soldier with PTSD who has found cathartic expression through MLP FIM ,

Mandopony- a musician who is inspired by MLP to write songs of idealism for the masses

Saberstalk- Muscle head that equates fitness to personal happiness.
Through them and the more general example of charity Organization, Bronies for good, and The Social Network Brony Meet Up group, we are given a glimpse into what drives these people to embrace the heartwarming and positive world that that is My Little Pony. Drives like the unique animation style, the important life lessons, the bonds that are built within the fandom all make them who they are. While there was a lack of female perspective into the subject, The documentary touched upon the complexity of gender associated items and possible reasons why this has become a phenomenon.. As one of the interviewees,Dustykatt said, "I like what I like, and I don't need society to tell me what I like. And that is all there is to it."
The structure of the film keeps you enthralled by breaking up each interview by returning to the story of Ashleigh Ball and her attendance to Bronycon 2012. These breathers give the audience time to take in the information presented to us as oppose to simply compiling all the data at once. While we do not get any insight from the series creators, I think Ball is a suitable representative for the series. The soundtrack, supplied by Ball's band Hey Ocean!, is subtle a and as any good Score, fades into the background, providing a unique ambience to this story of men and their love of My Little Pony.
Overall while this is not the official Brony Documentary that Hasbro/wanted to make, this is the one that we needed to get a better introductory glimpse into the world of Bronies. Like any Fandom, the concept seems foreign and strange, but after getting a good peek into their world, i can appreciate the dedication and love that these individuals have for their fandom. Like Trekkies, Browncoats, WHovians, Otaku, and Sports Fans, Bronies are people who may never be supported by those outside of their fandom but they find support within their own and that is fantastic. I would have liked to get some more input from female fans on the brony subculture and there are some aspects of the film that should have been left on the cutting room floor, the documentary is well edited and the transition designs are subtle yet fitting for the subject matter. Brent Hodge does a good job not beating you over the head with his message but gradually lets you understand why Friendship is Magic.
Pros
Idealist view about the world we live in is infectious.

Depects the very best of the Brony culture

Compares Similarities between other fandoms in a smart way

Way its structured keeps you engaged and does not seem disjointed
Cons:
No Female (pegasister) input
Biased towards Bronies

some sections focusing on Ashleigh (primarily the vacation to her friends house and the spotlight on Hey Ocean!) add nothing to the premise and could be removed.

No Input from the series creators
Rating: Really Really Really F**** Cool 5/5