Sunday Aug 04, 2019
Spiraken Motion Picture Review Ep 003: The Town (or The Lindas Want You To Open The Door)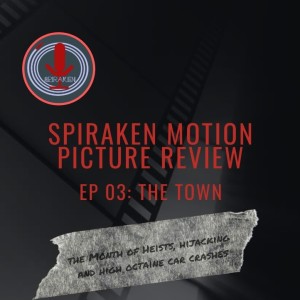 In This episode of  The SPIRAKEN MOTION PICTURE REVIEW PODCAST,  we return to an old tradition of the Spiraken Movie Review Podcast, The Theme Month and this one is a doozy. Xan and Gretta  start the Month of Heists, hijacking and high octane car crashes with a review of a modern heist movie. So enjoy as our hosts review The Town, directed by and starring Ben Affleck. It also stars Rebecca Hall, Jon Hamm, Jeremy Renner, Blake Lively, Titus Welliver, Pete Postlethwaite, and Chris Cooper.


Besides our review, we also discuss what makes a heist movie, how awesome Jeremy Renner was in the movie and what seven elements are key to making them great.
Please send us any comments concerns and ideas on how to make this podcast better. Let us know so we can do something about it. Rate us on iTunes, check out the facebook fangroup Spiraken Movie Review, purchase some stuff from our amazon store in order to fund this podcast and finally, listen to the primary podcast, The Spiraken Manga Review. Hope you enjoy the episode.
Music Used in the Episode: Background Music - Planning The Heist by John Powell (The Italian Job OST), Opening Theme- Charlestown by David Buckley & Harry Gregson-Williams (The Town OST), Closing Theme- The Letter - David Buckley & Harry Gregson-Williams (The Town OST)
Our Twitter 
Spiraken 
Xboxlive Gamertag
 Xan Spiraken
 
Our Amazon Store
 http://www.amazon.com/shops/spiraken
 
Random Question of the Day:
 What Heist Movie Is your favorite?
#spiraken #moviereview #heistmovie #dodecahydronofmovies #thetownmovie