Thursday Dec 13, 2018
Spiraken Motion Picture Review: Ep 001- Spider-man: Into The Spider-verse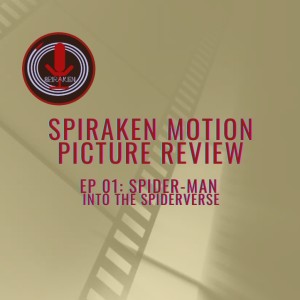 Spiraken Movie Review Podcast has Been Rebranded to The SPIRAKEN MOTION PICTURE REVIEW PODCAST, so Let's Start it off right shall we. Xan and Gretta review the latest Marvel Animated film, this one based off of the Ultimate Spider-man known as Miles Morales and the Spider-man Mega Series Spiderverse . So  enjoy as our hosts review Spider-man: Into The Spider-verse directed by Bob Persichetti Peter Ramsey & Rodney Rothman. It is starring Shameik Moore as Morales, alongside Jake Johnson, Hailee Steinfeld, Mahershala Ali, Brian Tyree Henry, Lily Tomlin, Luna Lauren Velez, Zoë Kravitz, John Mulaney, Kimiko Glenn, Nicolas Cage, Kathryn Hahn, and Liev Schreiber.


Besides going over the origins of Miles Morales, and the various other Spider-men, Our hosts talk about how right this film feels and ponder if it truly is the best spider-man movie. what do you think?
 also who pointed first
Please send us any comments concerns and ideas on how to make this podcast better. Let us know so we can do something about it. Rate us on iTunes, check out the facebook fangroup Spiraken Movie Review, purchase some stuff from our amazon store in order to fund this podcast and finally, listen to the primary podcast, The Spiraken Manga Review. Hope you enjoy the episode.
Music Used in the Episode: Opening Theme- Spiderman theme by Paul Francis Webster and Robert "Bob" Harris. (Spider-man 1967 OST), What's Up Danger- Blackway & Black Caviar (Spider-man: Into The Spider-verse OST)
Our Twitter 
Spiraken 
Xboxlive Gamertag
 Xan Spiraken
 
Our Amazon Store
 http://www.amazon.com/shops/spiraken
 
Random Question of the Day:
 What Spider-man would you want to see in the sequel?