Saturday Feb 13, 2021
Spiraken Con Report: The State of Conventions in 2021 (First Five Months)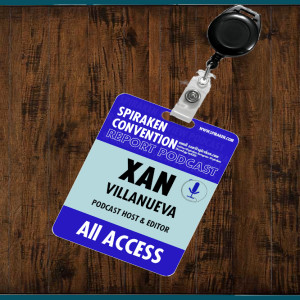 Welcome to another episode of Spiraken's Convention Review!
In this episode, Xan is joined by Anime Boston Staffer, Friend of the Podcast and Animecons.tv member, Doug Wilder (@nigokiwatches) as they discuss the recent development of Convention Cancellations as well as the outlook for the first five months of 2021.
As they discuss the implications of how con culture has changed since the pandemic, they also discuss the reasons why a convention would stay open as well as potential paths the convention scene will take in the future.
Note that all statements, feelings and hypothesizes given in this episode are our hosts own personal opinions and do not reflect any organization or website. 
Hope you Enjoy
If there is a show you want us to watch and discuss email us at xan@spiraken.com 
Remember to follow us @spiraken on Twitter and @spiraken on Instagram, also if you would kindly, please go to www.tinyurl.com/helpxan and give us a great rating on Apple Podcasts. Thank you and hope you enjoy this episode.
#spiraken  #conventionreport #spirakenreviewpodcast 
Music Used in This Episode: End Theme- New Year by Bad Snacks (Youtube Audio Library)
WHERE TO FIND US
Our Instagram https://www.instagram.com/spiraken/
Our Email Spiraken@gmail.com
Xan's Email xan@spiraken.com
Our Discord Tinyurl.com/spiradiscord
Our Twitter https://twitter.com/spiraken
Doug's Twitter https://twitter.com/nigokiwatches
Youtube Channel https://www.youtube.com/user/spiraken
Our Amazon Store http://www.amazon.com/shops/spiraken
Random Question of the Day: What Convention do you want to come back ?