Wednesday Jun 22, 2022
Spiraken Manga Review Ep 473: JK Haru is a Sex Worker In Another World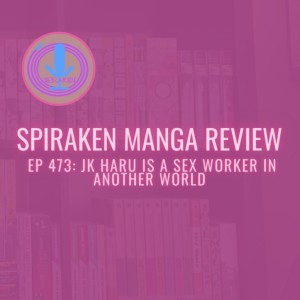 In this rather mature episode of the podcast, Xan reviews a light novel adaptation that shows a darker spin on the whole Isekai Trope. Is it super shocking? Well, sit back and find out as he reviews JK Haru is a Sex Worker In Another World by Ko Hiratori with art by J-ta Yamada.
As Xan tries to get through the plot without sounding like he is mansplaining, he goes over the subversive nature of the source material and his thoughts on the series as a whole.
Remember to Like, Share and Subscribe. Follow us @spiraken on Twitter and @spiraken on Instagram, subscribe to this podcast and our YouTube channel, Support our Patreon and if you would kindly, please go to www.tinyurl.com/helpxan and give us a great rating on Apple Podcasts. Also join our discord and  Thank you and hope you enjoy this episode.
#spiraken #mangareview #wheelofmanga #isekaimanga #seinenmanga #jkharuisasexworkerinanotherworld #fantasymanga #kohiratori  #jkharu #sevenseasentertainment #lightnoveladaptation  #podcasthq #manga #spirakenreviewpodcast 
Music Used in This Episode:  Closing Theme-Trendsetter by Mood Maze (Uppbeat)
Music from Uppbeat (free for Creators!): https://uppbeat.io/t/mood-maze/trendsetter License code: YEPNB5COHX56JVES
WHERE TO FIND US
Our Instagram https://www.instagram.com/spiraken/
Our Email Spiraken@gmail.com
Xan's Email xan@spiraken.com
Our Patron https://www.patreon.podbean.com/spiraken or https://www.patreon.com/spiraken
Our Discord https://tinyurl.com/spiradiscord
Our Twitter https://twitter.com/spiraken
Our Youtube Channel https://www.youtube.com/user/spiraken
Our Twitch https://www.twitch.tv/spiraken 
Our Amazon Store http://www.amazon.com/shops/spiraken
Random Question of the Day: Did you find this episode cringy?